Preschool Enrollment Has Plunged
This article ran in the Fall 2021 issue of Hourglass Quarterly. View the full publication here. 
Amid the pandemic, the number of young children attending preschool has dropped to its lowest level nationwide in more than a quarter century. The decline threatens to derail decades of improvements in school readiness, particularly for the most-vulnerable children.
New Census data show only 40 percent of 3- and 4-year-olds enrolled in school in 2020, a 14 percentage-point drop from 2019 and the first time since 1996 that fewer than half of U.S. children in that age group attended preschool. Pennsylvania saw an even greater drop—31.4%—in pre-K enrollment.
In 2019, only 14% of Lancaster County 3- and 4-year-olds were enrolled in a pre-kindergarten program, lower than the Pennsylvania rate of 23%.
The National Institute for Early Education Research found the top three reasons parents pulled their young children from preschool included fears of health risks, cuts to state and other preschool programs and a dearth of in-school preschool options for working parents. In fact, the Census data show young children of working moms were particularly hard hit; their preschool enrollment nationwide fell 35 percent in 2020, compared to only 10 percent of 3- to 4-year-olds whose mothers did not work.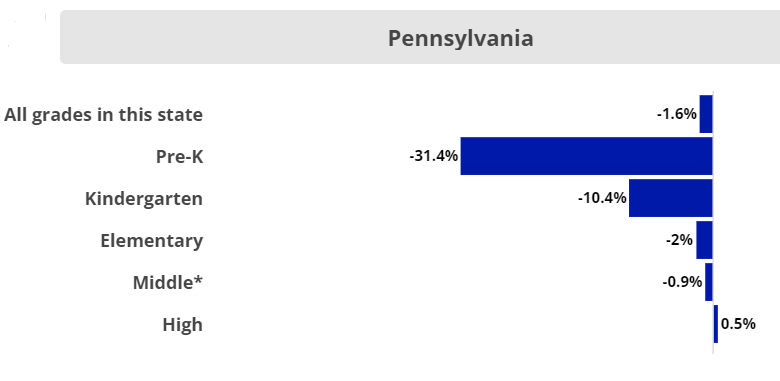 School readiness at risk
Elementary schools are already feeling the fallout of incoming kindergartners who missed early education last year. Studies find young children were exposed to significantly more screen time and had fewer opportunities to develop academic routines.
One new study by researchers at George Mason University found children's school-readiness skills at age 4 still predicted their academic achievement and likelihood of receiving discipline by grade 5, and the American Academy of Pediatrics finds students who attended preschool were less likely later on to show signs of anxiety or be at risk of dropping out of school.
Children who attend preschool have been shown to attend school more regularly once they get to K-12, too, according to Hedy Chang, the founder of Attendance Works, a nonprofit that studies the effects and prevention of chronic absenteeism. Better attendance comes in part, she said, because children develop school routines and become comfortable in organized school settings, and because they've strengthened their immune systems from having been around other kids.
Because there are few assessments for students before grade 3, Chang noted, "one of the challenges is we may not pick up what the impact of all of this is for a little while. … We're already going to see some impacts on 3rd grade now, but it's going to grow over time unless we figure out some other ways to really support our youngest learners."
Information adapted from the October 25, 2021 article "Preschool Enrollment Has Plunged: What That Means for School Readiness" by Sarah Sparks that ran in Education Week.
Related Articles
Blog topics cover everything from research and statistics to opinion pieces. Stay informed and keep reading for more.