Closing the Digital Divide in Lancaster County
At our May First Friday Forum Hourglass heard from Lisa Riggs, President, and Ezra Rothman, Director of Strategic Initiatives and Partnerships, at the Economic Development Company of Lancaster County about closing the digital divide in Lancaster. Since early 2021 EDC, in partnership with the Lancaster STEM Alliance, has spearheaded an effort to develop a broadband strategy for Lancaster County. The effort included a study by national consultant CTC Technology & Energy.
What the Study Found:
The study looked at three key areas for Lancaster County: broadband infrastructure, affordability, and adoption.
Infrastructure:  The study found that approximately 11,000-17,700 addresses in Lancaster County are unserved, meaning they don't have access to basic 25/3 Mbps broadband to support a single internet user, let alone modern internet needs like video conferencing or e-commerce applications. The faster 100/20 Mbps is often considered the minimum speed needed, while increasingly fiber optic networks are the ideal standard.
Affordability & Adoption: Additionally, broad stakeholder groups such as local libraries, K-12 schools, higher education, healthcare and social services have identified affordability and digital literacy as significant challenges for parts of our community. Universities cited examples of students taking online college courses on a cell phone, and libraries have been putting hot spots in their parking lots so kids can complete homework afterhours.
The study found that $50/month is the starting price for internet in Lancaster, with services ranging up to $200/month for households. One service provider, Comcast, does offer discounted service for low-income households, called "Internet Essentials," at $10/month. However, Comcast does not serve all of Lancaster County. Additionally, the study found that only .01% of Lancaster County is enrolled in the federal Affordable Connectivity Program (ACP), which provides a $30/month subsidy for internet services for low-income households, despite 10% qualifying. The study also found a computer device gap of around 26,000 devices in Lancaster County.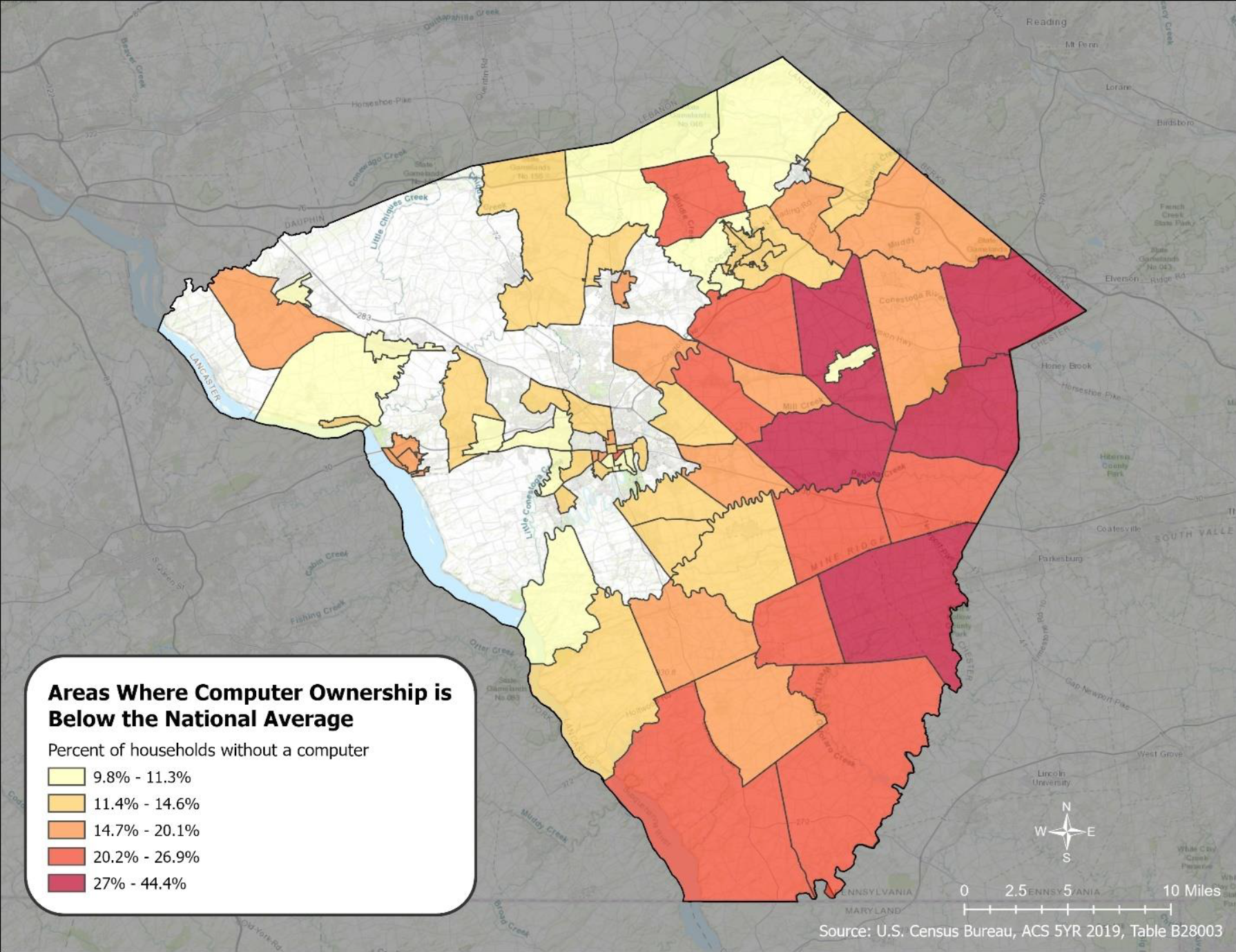 Recommendations:
The study outlines key recommendations for next steps including:
Engage in a competitive process to identify one or more Internet Service Provider partners to address the County's unserved areas and explore institutional user options.
Ensure Lancaster County residents are accessing federal subsidies enabling low-income individuals to access broadband services.
Consider a bulk-purchase agreement with Comcast for Internet Essentials to support low-income residents.
Develop a County-wide coalition of stakeholders to drive solutions around affordability and adoption. This coalition could tackle device recycling programs or a digital literacy curriculum.
The conversation around closing the digital divide in Lancaster County is particularly timely as state and federal funding is being allocated towards broadband projects. For example, Pennsylvania will receive $278 million through the Coronavirus Capital Projects Fund and at least $100 million through the Infrastructure Investment and Jobs Act's Broadband Equity, Access, and Deployment program. "This is a once-in-a-generation opportunity to fix our broadband infrastructure," said Rothman. "We can't solve this by leaving each individual institution in our community to put band aids on it." Broadband projects are also eligible for American Rescue Plan Act (ARPA) funds.
"Broadband is no longer a nicety," said Riggs. "We need access to high quality, high speed internet for our whole community."
Other Local Broadband Efforts
For context, creating a broadband network has been a priority for neighboring York County. The York County Commissioners established a YoCo Fiber Optic Task Force in February 2021 to develop and implement a countywide broadband strategy, and allocated up to $25 million of its American Rescue Plan Act funding for local broadband efforts. Additionally, Lancaster City is reviving plans for a citywide broadband network. The city took full ownership in May 2021 of an unfinished broadband network that includes 16 miles of fiber, two remote switching stations, and about 160 customers for the residential internet service known as LanCity Connect after parting ways with MAW Communications. Lancaster City recently received bids from 5 companies interested in helping to build and manage the network.
Closing the Digital Divide in Lancaster County: May 2022 First Friday Forum
Related Articles
Blog topics cover everything from research and statistics to opinion pieces. Stay informed and keep reading for more.