Lancaster Leads State in Air Pollution
This article ran in the Fall 2021 issue of Hourglass Quarterly. View the full publication here. 
According to a new report from the PennEnvironment Research and Policy Center and the Frontier Group, Lancaster County saw 107 days of elevated levels of ozone or particulate pollution in our air in 2020.
Air pollution harms our health, even at low levels. According to the report, "exposure to ozone and particulate pollution has been linked to premature death; damage to the respiratory and cardiovascular systems; worsened mental health and neural functioning; problems with fertility, conception, pregnancy and birth; increased risk of many types of cancer; and harm to children." It can also increase the risk of infectious diseases by weakening immune systems and helping pathogens spread. Lancaster County's air quality is ranked 15th worst in the country by the American Lung Association, although it is improving. According to the EPA, in 2020 70% of days in Lancaster were healthy air days, slightly above 64% in 2000. The year with the fewest healthy air days was 2014, at 34%.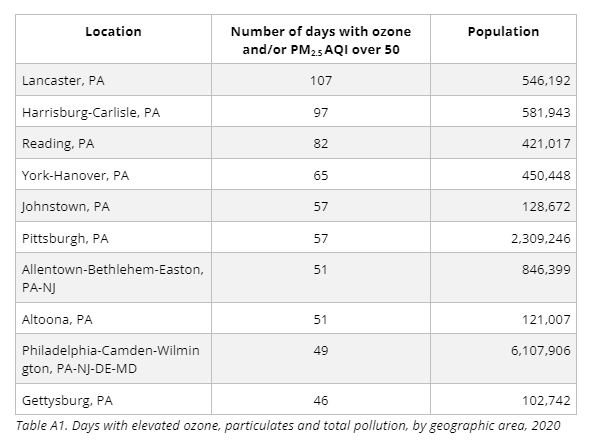 Air is polluted with a variety of contaminants, including particulate matter, ozone, carbon monoxide, sulfur dioxide, nitrogen dioxide, volatile organic compounds, and many other toxic or hazardous substances. This pollution comes from burning fossil fuels, agricultural activity, wildfires, and other sources. According to the Partnership for Public Health, the largest contributors to fine particulate matter emissions in Lancaster County are 30 percent agricultural crop and livestock dust, 15 percent residential fuel combustion, 10 percent industrial fuel combustion, and 9 percent biomass waste disposal.
In order to communicate the potential health risks of air pollution to the public, the EPA uses the Air Quality Index (AQI), which classifies levels of different pollutants into the color-coded risk categories of "Good," "Moderate," "Unhealthy for Sensitive Groups," "Unhealthy," "Very Unhealthy," and "Hazardous." In 2020, Lancaster County saw 107 days at the "moderate" level or worse. However, research suggests that even "moderate" air quality can, in fact, pose broad threats to public health, and a variety of medical and public health organizations have recommended tighter air quality standards that are more protective of public health.
The report recommends curbing emissions by electrifying buildings and equipment that currently burn fossil fuels directly, improving access to and the quality of public transportation systems and infrastructure for walking and biking, increasing the use of renewable energy like wind, solar and geothermal, and protecting and building upon the Clean Air Act.
You can track Lancaster County's current air quality at AirNow.Gov.
Summary comes from "Trouble In the Air," Fall 2021, published by the Frontier Group, Environment America Research & Policy Center, and the U.S. PIRG Education Fund.
Related Articles
Blog topics cover everything from research and statistics to opinion pieces. Stay informed and keep reading for more.