This article ran in the Summer 2022 issue of Hourglass Quarterly. View the full publication here.
On April 27 Hourglass hosted a community forum at the Ware Center on food and agriculture entitled "Food For Thought." The evening included a reception, several local and regional speakers, and keynote speaker George Steinmetz, photographer behind the global project "Feed the Planet." While Lancaster County has long been considered a national leader in agriculture and a destination for foodies, the goal of the forum was to connect the dots between our food system and quality of life issues such as health, the environment, entrepreneurship and the future of our community.
Photographer George Steinmetz "Feed the Planet": Food for Thought Forum
George Steinmetz, a regular contributor to National Geographic and the NYTimes Magazine, is best known for his aerial photography. He presented a dazzling slideshow of images taken of food production around the world: fields clear cut out of the Amazon jungle to raise soybeans, the world's largest chicken farm (tended largely by robots), and even images from Plain Sect farmers in Lancaster County. The goal of the Feed the Planet project is to show how our food is produced so that consumers can make more informed decisions.
Food Insecurity in Central PA: Food For Thought Forum
Additional Speakers
Attendees also heard from Joe Arthur, Executive Director of the Central PA Food Bank, about food insecurity in our region. The Central PA Food Bank serves 27 counties including Lancaster. Food insecurity peaked during the COVID pandemic—32,550 people in central Pennsylvania became newly food insecure since 2019, an 11% increase. The food bank has been partnering with local farmers to acquire more fresh food and rescued 32 million pounds of food in the last year.
Food Entrepreneurship & Southern Market Center: Food for Thought
The next speakers were Chris Ballentine, community relations manager for Willow Valley Communities, and Jessie Tuno, owner of Butter & Bean coffee shop, who spoke about how the new Southern Market Center is offering opportunities for food entrepreneurs. Southern Market was originally built in 1888 under the famous local architect C. Emlen Urban. The building is now owned by Lancaster Equity, was developed by Willow Valley, and partners with ASSETS on business training for the 10 local chefs in the food hall who are part of an incubator program for culinary startups.
Crop Diversity & Local Food Systems: Food for Thought Forum
We heard from Alex Wenger, a seed grower, farmer, and plant-breeder from the Field's Edge Research Farm in Lititz. Alex spoke about how he works with local chefs to increase agrobiodiversity, or the variety of crops that are grown in our region.  Alex grows specialty crops, including unique heirloom varieties, that are healthier, that command a price premium and that are more resilient for our climate. Alex also works with new Americans and refugees that are living in Lancaster to grow their culturally significant foods.
Oyster Reef Restoration in the Chesapeake Bay: Food for Thought Forum
The next speaker was Mark Bryer, Chesapeake Bay Program Director at the Nature Conservancy, who spoke about oyster reef restoration in the Bay. Oysters, in addition to being delicious, provide many ecosystem services including filtering pollutants like nitrogen and sediment that come from Lancaster County farms. Native oysters were decimated in the Bay, but now the Chesapeake Bay is home to the largest oyster reef restoration projects in the world.
Lancaster Changemakers: Food for Thought Forum
At the forum Hourglass recognized three local food changemakers: Hawa Lassanah, whose organization DECA City Farms has growing plots in Lancaster County Central Park and operates a pay-what-you-can farmers market in Lancaster City, Shauna Yorty, a local artist who has spearheaded the Garden in the Light community garden in Lancaster City's Mussertown neighborhood, and Zeshan Ismat, an F&M professor whose organization Blackbirds is connecting families of color to environmental issues and working to install backyard methane digesters. Each changemaker received a $3,000 check to support their projects from the GIANT Companies.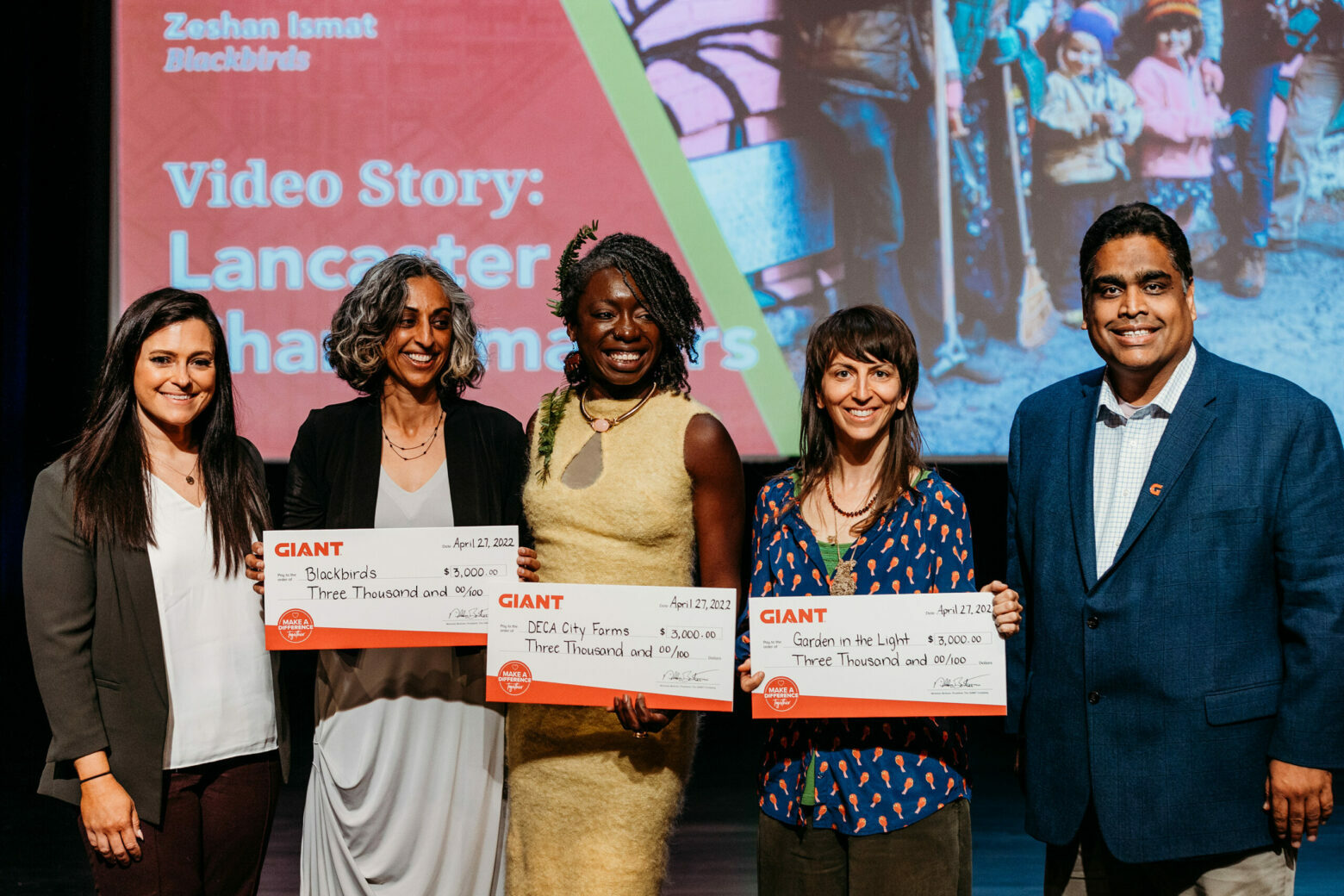 The forum also included a video about Mount-Joy based Brubaker Farms, an 1,800-acre preserved farm that is home to 1,300 dairy cows and 52,000 broiler chickens. Brubaker Farms won the 2021 Pennsylvania Leopold Conservation Award for practices including riparian buffers, no-till and cover cropping, an anerobic manure digester, solar panels and much more.
Find the full forum video here. Thank you to our community forum sponsors The GIANT Companies, Clark Associates, C'est La Vie/ Josephine's/ Belvedere Restaurant Group, Lancaster Local Provisions, Monty & Molly Milner, Paul Mueller and Kinectiv.
Related Articles
Blog topics cover everything from research and statistics to opinion pieces. Stay informed and keep reading for more.