Deliberative Democracy Forum: Housing
On Saturday, August 19, Hourglass hosted a deliberative forum on housing in partnership with the Franklin & Marshall College Center for Politics & Public Affairs. The forum brought together 50 randomly selected residents who are representative of Lancaster County to deliberate solutions to Lancaster County's housing challenges.
What is a Deliberative Forum?
Deliberative forums are an innovative way to practice democracy and are increasingly popular in cities and countries around the world. Forum participants are randomly selected and brought together to learn about and discuss a specific issue to foster greater understanding and develop practical recommendations.
Deliberative forums are useful tools in the public engagement process. Views expressed in town hall meetings and other channels of communication are often not an accurate representation of the general public. Opinion polls and surveys, while representative of the entire public, capture views that are often uninformed, particularly on issues that are complex and that require some level of technical understanding. Policy recommendations developed through deliberative forums are both representative of the public and well-informed.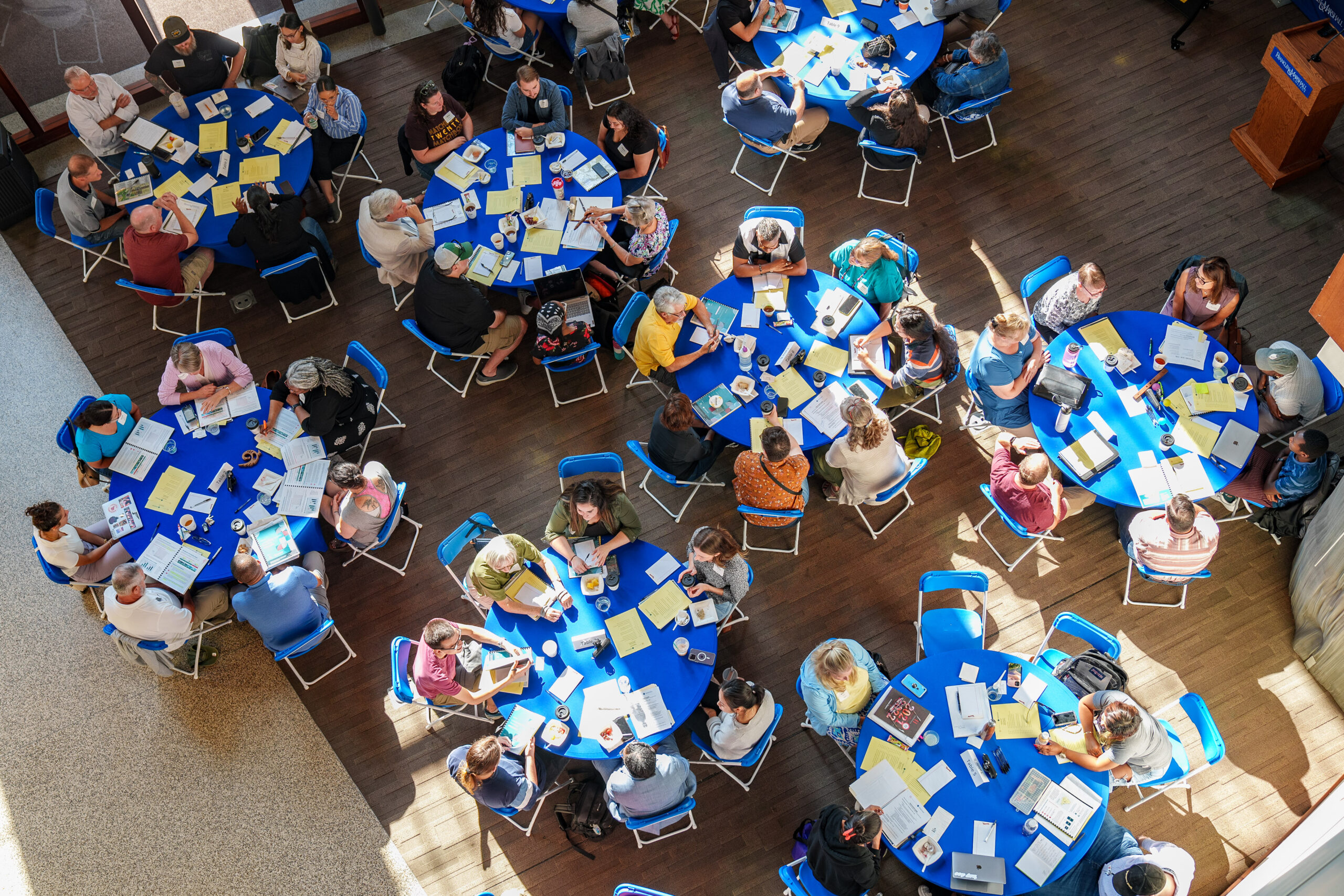 How does it work?
First you select a topic for the forum. Our forum is focused on housing as Lancaster County has several challenges related to housing such as a low vacancy rate, lack of affordable housing, and low housing density within our Urban Growth Areas.
After deciding the topic, a group of subject matter experts is formed. These experts help craft briefing documents, which are given to participants in advance of the forum to provide them with relevant background information on the topic. The experts also help inform what the participants will deliberate, give plenary presentations throughout the forum, and are on-site to answer any questions the participants have.
Next is participant selection. Participants are randomly selected and representative of the community. This is done first by mailing letters to randomly selected individuals to invite them to participate in the forum. In our case, we first mailed 2,000 individuals from across Lancaster County. Then, selected individuals respond if they are willing and able to participate. From that group, the participants are "stratified." This means that we narrow the group down to be reflective of the community's demographics, including age, race, gender, geographic location, educational background and more. Participants are paid for their time, and childcare, transportation and language translation are provided to remove barriers from participation.
Finally, we bring people together, in one room, for a full-day of deliberation. Participants are organized into small groups, each with a paid facilitator and notetaker, to discuss a series of challenges and ultimately to work towards recommendations.
What's Next?
After the forum, we will analyze the data, which includes pre & post-surveys of the participants, transcripts of the deliberations, and final recommendations produced by the small groups. This will be shared in a final report. The report will first be presented at Hourglass's October First Friday Forum (on October 6, 2023). To receive an invitation to that forum, please become an Hourglass member. A video recording of the forum and the final report will be available here following the presentation.
Our partners:
Funders: This forum was generously funded by a Lancaster County Community Foundation Bridge Builders grant, the High Foundation, and the Steinman Foundation.
Experts: Our experts included
Michaela Allwine, Director of Housing and Community Development, Lancaster County Housing and Redevelopment Authorities
Mike Berk, Executive Vice President, Lancaster County Association of Realtors
Mary Frey, Principal Planner, Lancaster County Planning
Claude Hicks, Senior Vice President of Real Estate Development at HDC MidAtlantic
Ben Lesher, President & Founder of Parcel B Development Company
Jeb Musser, Vice President of Land Protection at Lancaster Farmland Trust and member of Lancaster County Planning Commission
Anna Ramos, Executive Director, Lancaster County Workforce Development Board
Douglas Smith, Bureau Chief of Community Planning & Design at City of Lancaster
Facilitators: Facilitators were trained in partnership with Advoz